It was my first time racing against World Champion Javier Gomez, not that we actually raced. Maybe my warm up was faster than his but from the start of the gun, he was out front and that was the last I saw of him. My last non-draft race was October 2016 in Austin, TX at the 70.3 or half iron-man distance.  Inn 2017, I started racing exclusively non-drafting events. My choice to move to ITU draft legal racing before that was mainly because that is the avenue for Olympic qualification.
Additionally, I was never a strong enough cyclist to be compeitive against the other professionals winning the prize purses.  Because of the benefits in drafting behind someone in ITU, I've not had to worry about the bike as much because I have always been able to hold on to dear life. That is getting even less advantageous. Nowadays you have to be an all-around athlete in ITU, as it has gotten even more compeititve.
Nevertheless non-drafting racing requires more of a focus on the bike and a lot of time can be gained or lost on that part of the triathlon. Obvoiusly my coach and I have had to start to work on my biking because we know that is a weakness of mine. But from experience, that takes years and years to master, like trying to master any of the other desciplines. I did not know what to expect in Des Moines given this was my first race since late June.
I decided to stay at an Airbnb between the airport and the race start.  That way I could just walk from the airport and ride my bike on the morning of my race.  Leading up to the race, I found a lake to swim at called Raccoon River Park.  It had a roped off area about 200 meters long and the bike ride was only 20-30 mins away.
Race morning was a bit chilly, colder than I had been training in any way. It actually felt refreshing once I got going. It was projected to be a high of 90 degrees but luckily some cloud cover rolled in early morning to keep the temperature down.
I was racing on my old titanium Serotta time trial bike since I was not interested investing in another frame at the moment.  I had been on an elite racing team with US Military Endurance Sports but I had not been reselected for 2017. Hopefully, I will make the US Military Endurance Sports Elite Team next year and will be racing on an updated frame in the future. I had a Rudy Project 57 Aero helment and some persoal Zipp 404s. Better than anything twenty years ago and I would much rather invest in my training and fitness at the moment. It's almost free!
I also wasn't too sure how the swim would go compared to the other competitors, but Ive been getting some good training with the Pikes Peak Master's swim team, training out of the Olympic Training Center. I had a starting number of twelve and there were about fourteen of us.  We had a beach start and the lake was only shallow enough to run and dolphin dive ten meters.
My plan was to just get on some feet and stay there. I know my swim fitness and there was no need for me to try to win the race in the swim, since it would be impossible anyway. I felt good though after about 200 meters when I usually get tired, but I started swimming past some people.  About halfway in I was at the front of the main chase pack, with a couple of swimmers way ahead, including Gomez. I felt comfortable staying there and saving my energy for the bike and run.
When I came out of the water, I was probably fifth overall.  A few guys passed me in transition but a big group of us came out together on the bike.  I eventually found myself at the back end of the bike group, staggered and not drafting.  I wanted to try and keep contact as long as I could. Although I was not getting a drafting benefit, it is always easier to bike harder when you can see other competitors and not riding all by yourself.
I did have one problem to deal with, my eye shield on my helment was loose and started to dangle. I had to fumble with it for about ten minutes until I decided to discard it on the course and pick it up later. Shh…don't tell a race officials. Even with that problem, I managed to stay with main chase group for the first of two 20km bike loops.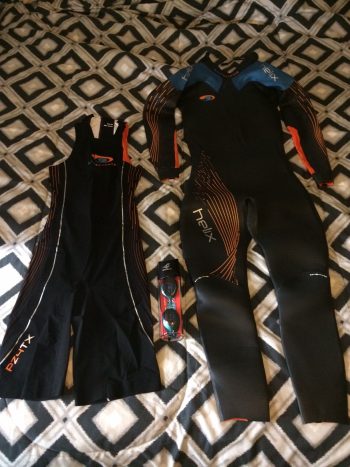 Part way through the second bike loop, the group started pulling away and a few other bikers who were slower coming out of the water also passed me. All I could do at that point was to try and keep from getting too far behind so I could use my run to help reel back a few of them.  The course was mostly flat on wide two lane roads with a couple of minor inclines.
Going into T2, I wasn't too far behind the guys who passed me during the second loop, but I had no idea how far I was behind the big group I let get away. The first part of my run was an out and back section, which was good to get an idea on how far behind I was. Within the first mile, I ran passed those who had passed me and kept charging.  Because I did not have a watch, I was only able to visually guess how much furher I was behind the other guys and it did not look that far.
For the rest of the run, I kept my pace, hoping that some people ahead would come back to me.  At about mile five, I started to feel fatigued and probably started to slow.  The race ended in front of the Capital with a thirty meter super steep hill 100m out. I was thinking to myself, how mean is this to do this to us.  Once I crossed the finish line, I   congratulated all my competitors including Gomez.  It was either my first or second time meeting him.  I met some Spaniards back in 2007 during a bike ride the day before the ITU World Championships in Vancover, BC, Canada but at the time I had no idea who the top ITU guys were.
I am a true believer of eating and promoting a plant-based diet for maximum nutrition, performance and recovery. Furthermore, I encourage the pursuit of living life and searching and holding onto quality relationships—be true to yourself and live life with others. Revel in the journey, not just in the destination. I'm pleased to be apart of the club team US Military Endurance Sports and race in The Escape Triathlon Series this year. I would only be half the athlete and man if it were not for the wisdom of my coaches and mentors, Tim Crowley and Louis Tharp and all my family, friends and supporters, like Vasa and Sabble Water Optics. Go chase your dreams too!